XRP Myth Buster NFTs distribution status
How to get your NFT for free
The entire XRP Myth Buster collection of 10,000 NFTs will be distributed entirely for free to the public. There will be bigger airdrops and smaller giveaways. If you decide to sell your NFT, a 3% fee will automatically go to XRP Myth Buster for further development.

For announcements of airdrops and giveaways, follow XRP Myth Buster on Twitter.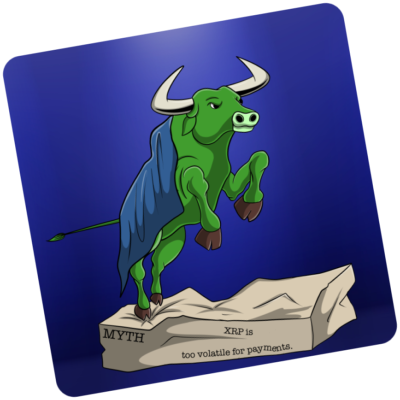 The NFTs are distributed via the XMB token that is used to mint them. If you don't use your XMB token to mint the NFT within one week of getting it, XRP Myth Buster reserves the right to let somebody else do it. Thus your token might become useless if you don't use it within one week.
Airdrops
There will be 16 weekly airdrops of 500 NFTs.
Because currently there is no tool for NFT airdrops, everything will happen through the XMB token. Successful participant in the airdrops will receive 1 XMB token each and they will be able to use this XMB token to mint 1 XRP Myth Buster NFT on xMart.
8,000 or 80% of the NFTs will be distributed in airdrops during the course of approximately 4 months.
Airdrops rules
Airdrops will start in the 47. week of the year 2022 (starting November 21). For 16 weeks, there will be an airdrop of 500 NFTs weekly.
Every week, XRP Myth Buster will announce on Twitter at a random time the link to a Google form.
First 500 people who fill in that form with their XRP address will be eligible for the airdrop.
Every airdrop participant must have the trust line for the XMB token (issuing address: rnSm4WbbgCDp1dzJd7drqWkYSnsQTHgySh) to be able to receive it!
Giveaways
On a regular basis, XRP Myth Buster will announce NFT giveaways on Twitter. Every giveaway will have its rules announced in the corresponding tweet.
XRP Myth Buster will also offer free NFTs publicly to most valuable XRP community members and to high-profile people outside the community to help spread the truth and debunk myths about the XRP Ledger.
In total, 2,000 or 20% of the NFTs will be distributed in giveaways over the course of 2 years, ending approximately in November 2024.